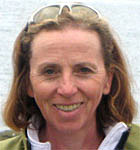 Carmel Murphy is a Canadian Certified Professional Ergonomist (CCPE), Certified Disability Management Professional (CDMP) and Registered Physiotherapist (PT). Carmel completed her BSc (Hons) in Physiotherapy at the University of Ulster and her MSc (Ergonomics), University College London, both in the United Kingdom.
She has served on the Board of the Canadian College of Certified Ergonomists and the BC/Yukon Council of the Association of Canadian Ergonomists. She teaches ergonomics at the British Columbia Institute of Technology (BCIT) and has taught Ergonomics and Human Factors at Simon Fraser University.
With over 20 years' experience working with clients in industrial, healthcare and corporate environments, Carmel enjoys engaging stakeholders, clarifying organizational needs, developing actionable project plans and collaborative solutions. Carmel has broad expertise in organizational planning and effectiveness, risk management, ergonomics and human factors, training and development, disability management and project management.
Experience includes:
Oil, gas and electrical utility, office, manufacturing, warehousing, forestry, healthcare, mining, community services, defence and transportation industries.
Projects developing human performance standards, ergonomic risk management tools and health and ergonomic risk profiles.
Training in the area of industrial ergonomic programs, musculoskeletal injury prevention, disability management and mental health.
Implementation of ergonomics programs in a range of industries.
Associates:
Professionals with various skill sets are available to assist with project needs.  We will work to ensure appropriate expertise is aligned to achieve your business outcomes.
Our consultants have strong academic qualifications, and professional experience with skills in a broad range of areas related to kinesiology, biomechanics, physiology, human performance, safety, business, research and training.
Contact us to find out how we can align our expertize to meet your needs..